September Is Healthy Aging® Month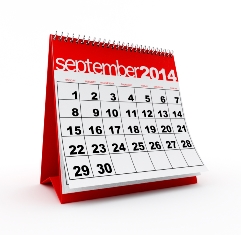 Sep­tem­ber is Healthy Aging Month and time to get started on bet­ter health practices.
Think it's too late to "re-invent" your­self?   Think again. Accord­ing to Car­olyn Wor­thing­ton, editor-in-chief of Healthy Aging®Mag­a­zine and exec­u­tive direc­tor of Healthy Aging®, it's never too late to find a new career, a new sport, pas­sion or hobby.
Wor­thing­ton is the cre­ator of Sep­tem­ber is Healthy Aging®Month, an annual health obser­vance designed to focus national atten­tion on the pos­i­tive aspects of grow­ing older. Now in its sec­ond decade, Wor­thing­ton says Sep­tem­ber is Healthy Aging® Month pro­vides inspi­ra­tion and prac­ti­cal ideas for adults, ages 45-plus, to improve their phys­i­cal, men­tal, social and finan­cial well-being.
The num­bers of peo­ple over 45 is grow­ing every year. The atten­tion used to be just on the baby boomers. The gen­er­a­tion x-ers are elbow­ing their way in and have many of the same inter­ests as the pre­vi­ous gen­er­a­tion – stay active and vibrant as long as pos­si­ble. There are over 76 mil­lion baby boomers today over 50 and the first of the 82.1 mil­lion gen­er­a­tion x-ers are about to reach that mile­stone in 2015.
"Use Sep­tem­ber as the moti­va­tion to take stock of where you've been, what you really would like to do if money was no object," says Wor­thing­ton. "And try it! Who says you have to do some­thing related to what you stud­ied in school? Who says, you can't start your own home busi­ness later in life, test you're your phys­i­cal prowess, or do some­thing wildly dif­fer­ent from any­thing you've done before? Only that per­son you see in the mirror!"
Why Healthy Aging?
Accord­ing to Wor­thing­ton, "We saw a need to draw atten­tion to the myths of aging, to shout out 'Hey, it's not too late to take con­trol of your health, it's never too late to get started on some­thing new.' Why not think about the pos­i­tive aspects of aging instead of the stereo­types and the neg­a­tive aspects?"
Sep­tem­ber is a per­fect time to cel­e­brate Healthy Aging Month since it is time when many peo­ple think about get­ting started on new tasks after the sum­mer. Draw­ing on the "back to school" urge embed­ded in every­one from child­hood, the obser­vance month's activ­i­ties are designed to encour­age peo­ple to reju­ve­nate and get going on pos­i­tive mea­sures that can impact the areas of phys­i­cal, social, finan­cial and men­tal wellness.
Sep­tem­ber is Healthy Aging® Month was first intro­duced when the baby boomers were about to turn 50. "At that time, no one wanted to talk about grow­ing older," Wor­thing­ton says. "You know, it was that same '60's atti­tude – 'Don't trust any­one over 30; hell no we won't go.' Today as the boomers turn 60 and 65, it's a dif­fer­ent story," Wor­thing­ton explains. "We rec­og­nized early on that care­ful atten­tion to the com­bi­na­tion of phys­i­cal, social, men­tal and finan­cial fit­ness was pow­er­ful in the pur­suit of a pos­i­tive lifestyle and have built our Healthy Aging® pro­grams around that con­cept for the gov­ern­ment and pri­vate sec­tor through this annual obser­vance as well as TV spe­cials, videos, books, printed mate­r­ial, our web­site and blogs.
"The inter­est in pos­i­tive lifestyle infor­ma­tion seems to be insa­tiable. Our sub­scriber list for Healthy Aging® Mag­a­zine keeps grow­ing so we know we are on the right track. We are not about retire­ment. Nor are we a 'senior' mag­a­zine filled with arti­cles about depres­sion, incon­ti­nence or organ recitals. We are about vibrant, active, 45-plus peo­ple who are tak­ing charge of their lives, fol­low­ing their pas­sion, and who are hap­pily look­ing for­ward to what's next in life."
To get you started on re-inventing your­self, here are some ideas from the edi­tors of Healthy Aging®Mag­a­zine (www.healthyaging.net). Maybe you will find some that will help you think out­side the box.
10 Tips for Rein­vent­ing Your­self dur­ing Sep­tem­ber Is Healthy Aging Month: 
Do not act your age or at least what you think your cur­rent age should act like. What was your best year so far? 28? 40? Now? Pic­ture your­self at that age and be it. Some peo­ple may say this is denial, but we say it's pos­i­tive think­ing and goes a long way toward feel­ing bet­ter about your­self. (Tip:  Don't keep look­ing in the mir­ror, just

FEEL

 

IT

!)
Be pos­i­tive in your con­ver­sa­tions and your actions every day. When you catch your­self com­plain­ing, check your­self right there and change the con­ver­sa­tion to some­thing pos­i­tive. (Tip: Stop watch­ing the police reports on the local news).
Have neg­a­tive friends who com­plain all of the time and con­stantly talk about how awful every­thing is? Drop them. As cruel as that may sound, dis­tance your­self from peo­ple who do not have a pos­i­tive out­look on life. They will only depress you and stop you from mov­ing for­ward. Sur­round your­self with ener­getic, happy, pos­i­tive peo­ple of all ages and you will be hap­pier too. (Tip: Smile often. It's con­ta­gious and wards off naysayers.)
Walk like a vibrant, healthy per­son. Come on. You can prob­a­bly do it. Ana­lyze your gait. Do you walk slowly because you have just become lazy or, per­haps, have a fear of falling? (Tip: Make a con­scious effort to take big strides, walk with your heel first, and wear comfortable shoes.)
Stand up straight! You can knock off the appear­ance of a few extra years with this trick your mother kept try­ing to tell you. Look at your­self in the mir­ror. Are you hold­ing your stom­ach in, have your shoul­ders back, chin up? Check out how much bet­ter your neck looks! Fix your stance and prac­tice it every day, all day until it is nat­ural. You will look great and feel bet­ter. (Tip: Your waist­line will look trim­mer if you fol­low this advice.)
How's your smile? Research shows peo­ple who smile more often are hap­pier. Your teeth are just as impor­tant to your good health as the rest of your body. Not only is it the first thing peo­ple notice, but good oral health is a gate­way to your over­all well-being. (Tip: Go to the den­tist reg­u­larly and look into teeth whiten­ing. Noth­ing says old more than yellowing teeth!)
Lonely? Stop brood­ing and com­plain­ing about hav­ing no friends or fam­ily. Do some­thing about it now. Right this minute. Pick up the phone, land­line, or cell and make a call to do one or more of the fol­low­ing: Vol­un­teer your time, Take a class,  Invite some­one to meet for lunch, brunch, din­ner, or cof­fee. (Tip: Vol­un­teer at the local pub­lic school to stay in touch with younger peo­ple and to keep cur­rent on trends, take a com­puter class or a tuto­r­ial ses­sion at your cell phone store to keep up with tech­nol­ogy, choose a new per­son every week for your dining out.)
Start walk­ing not only for your health but to see the neigh­bors. Have a dog? You'll be amazed how the dog can be a con­ver­sa­tion starter. (Tip: If you don't have time for a dog, go to your local ani­mal shel­ter and vol­un­teer. You will be thrilled by the puppy love!)
Make this month the time to set up your annual phys­i­cal and other health screen­ings. Go to the appoint­ments and then, hope­fully, you can stop wor­ry­ing about ail­ments for a while.
Find your inner artist. Who says tak­ing music lessons is for young school chil­dren? You may have an artist lurk­ing inside you just wait­ing to be tapped.  Have you always wanted to play the piano, vio­lin, or tuba? Have you ever won­dered if you could paint a por­trait or scenic in oil? What about work­ing in wood? (Tip: Sign up now for fall art or music classes and dis­cover your inner artist!)
~Source:http://healthyaging.net/healthy-lifestyle/september-is-healthy-aging-month/