ELECTRIC and GAS BILLS may be going up!!!
Watch the Video Below to See For Yourself: Surge in Consumers' Electric Bills.
Click or post Channel 11, Chicago Tonight Video Link on electric & gas bills:
http://chicagotonight.wttw.com/2015/07/2…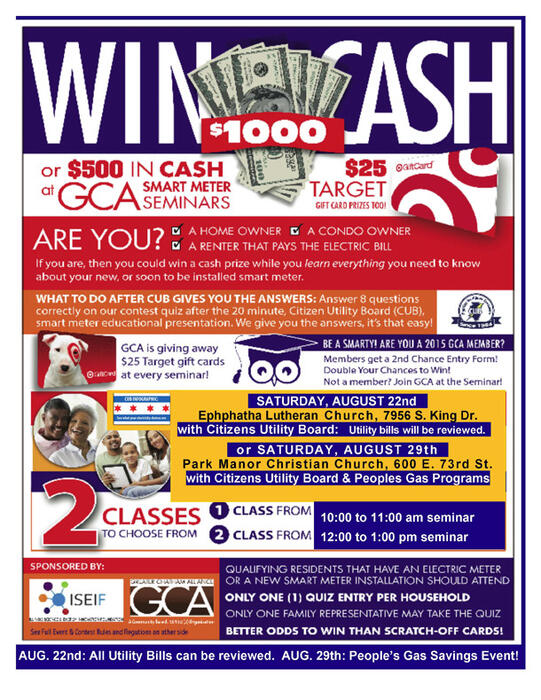 Sat, Aug 22, 10:00 AM
Ephphatha Lutheran Church, 7956 S. King Dr.
GCA will host two (2) smart meter events with the
Citizens Utility Board (CUB).
GCA Seminar 1 is from 10 am to 11 am.
GCA Seminar 2 is from 12 pm to 1 pm.
Residents living in 60615, 60619, 60620, 60621, 60629 and 60652 are eligible to attend these two seminars.
GCA is giving away $25 Target gift card prizes at each seminar and residents have a chance to win the ultimate grand prizes––– $1000 and $500 in cash.
CUB will show residents how to save money with ComEd's new, electric smart meter savings programs. Plus, CUB will also review ALL of your other utility bills too in an effort to help YOU find ways to save more money!
~Source: https://nextdoor.com/events/380610/?i=qrmvcdwxuyqmrnhvbzdh&utm_campaign=events&utm_source=link&utm_medium=u-web