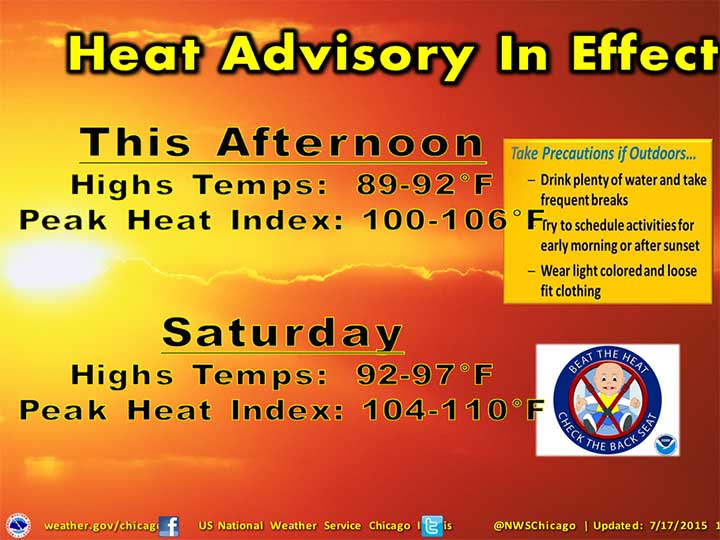 CHICAGO (WLS) —
This weekend's hot weather continues as a heat advisory is in effect for the entire Chicago area from 10 a.m. to 8 p.m. Saturday.
Temperatures could reach into the mid 90s and with the heat index, it could feel like over 100 degrees, ABC7 Meteorologist Troy Christensen said.
Some scattered thunderstorms are expected to move through the area in the late afternoon Saturday. This weekend's intense heat wave will be followed by a cold front bringing cooler temperatures and lower humidity early next week.
The National Weather Service warns that prolonged exposure to high temperatures could lead to heat-related illnesses, which are especially dangerous for the elderly and those with pre-existing health conditions.

Those who need to be outside should do the most strenuous activities in the early morning or evening, wear light weight and loose-fitting clothing and drink plenty of water. Frequent rest breaks in shade or air-conditioning are also recommended.

Children and pets should never be left unattended in vehicles, but especially during hot weather when a car's interior can reach lethal temperatures in just minutes.

Two cooling centers available to Chicago residents this weekend, the Department of Family and Support Services announced Friday. The King Center at 4314 S. Cottage Grove and the North Area Center at 845 W. Wilson will open as cooling center from 10 a.m. to 5 p.m.

In addition, the Garfield Center at 10 S. Kedzie is available 24 hours a day, seven days a week, to connect residents with emergency shelter.

City officials are urging residents to check on relatives, friends and neighbors. Seniors or individuals with limited mobility may call 311 to request transportation to the nearest cooling center.

The extreme heat coupled with the threat of severe weather has ComEd on alert. It's increasing staffing this weekend in the event there are power outages.

Last Updated at 11:44am
~Source : ABC 7 News